Shehla Chatoor's solo show put the spotlight on the craft of bridal fashion
It was a fairy-lit enchanted world in the heart of Karachi.
The gritty alleys of Kharadar were a few paces away and trucks lumbered nearby on one of the city's busiest roads. But nestled away in this nook, Karachi slowed down its pace and began lilting to a languid, seductive tune. The walkway outside the Old Custom House was transformed, wreathed in elaborate florals, tasteful lights, a wide, shiny black catwalk, spurts of live music and the logo, 'Shehla', flashing on to the old building throughout.
Shehla Chatoor pulls out all stops when she stages a solo show. She mad
he reasserted it this time, with her new bridal collection 'Aks'.
In doing so, she manages to create a backdrop that complements her designs. Shehla couldn't possibly have made more impact had she invested into creating a grandiose catalog. The images from 'Aks', then, will serve to be her catalog for bridal designs for the year, likely to woo multitudes of clients. Surrounded by florals, mirrors and cleverly placed lights, the clothes became fantastical. Adding to their aura was the drama: the show was preceded by men coming out on to the catwalk, holding traditional bakhoors and filling the air with a light floral scent.
How could one not put the cellphone camera to use and continuously click away at the catwalk? The many, many images of the show that have floated out on social media are testament to this.
What about the fashion?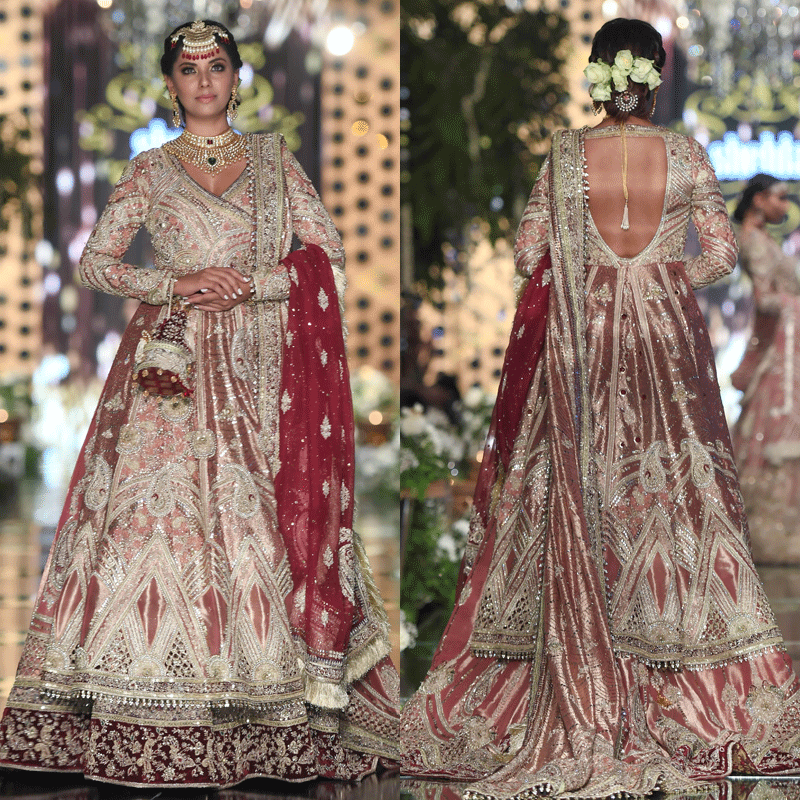 But moving beyond the fashion experience, what of the fashion itself? With 'Aks', the designer steered away from Western silhouettes, working on traditional lines albeit adding in dashes of modernity here and there. There were skirts and dupattas in crinkled silk, variations of the gharara – simmered, double-layered, triple-layered! – enormous ruffles, pleated dupattas, tiers of tulle, farshi lehngas, short angarkhas, long tunics, embellished bustiers and exquisite statement jackets.
A lot of variety of quintessentially traditional silhouettes because, really, how much can one experiment with heavy-duty wedding-wear? And the models would often twirl to reveal a neat cut-worked back, revealing a bit of skin, adding a touch of the risqué.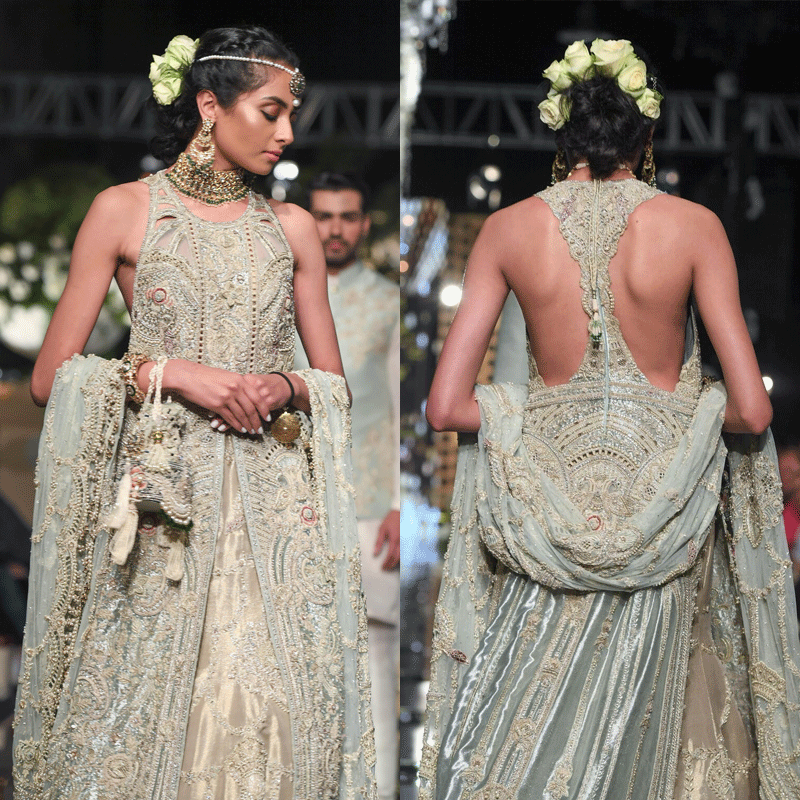 Also catching the eye, were the little bags that the models carried – little drawstrung batwas, a cross-border clutch and a fanny-pack tied across the waist! The bags went with the models' clothes and I can just see young girls wanting to carry them with their wedding clothes and later, mixing and matching them up.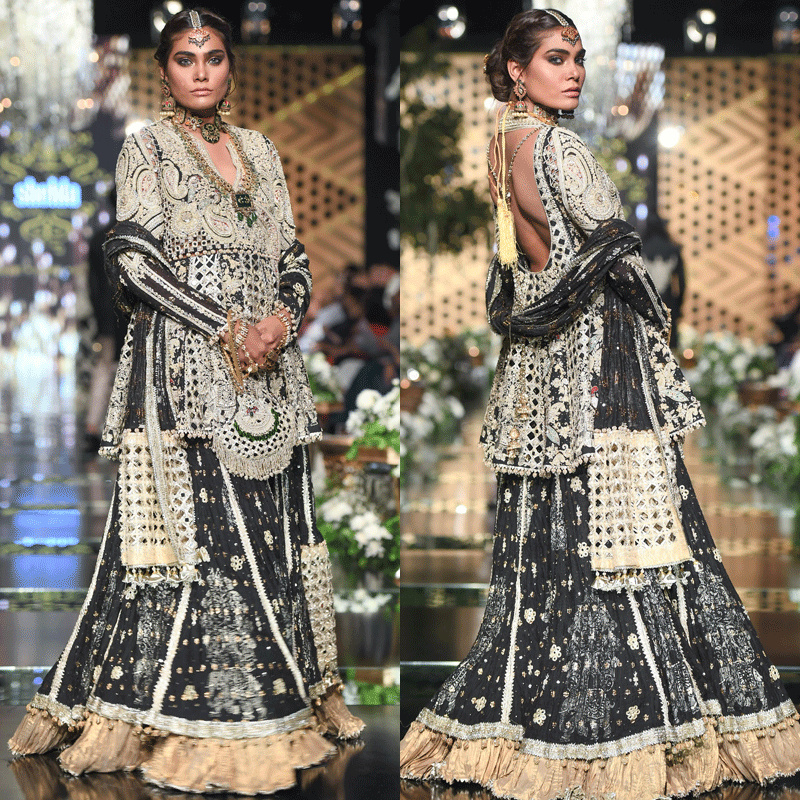 There were no bright dashes of color. Anyone familiar with Shehla Chatoor's work knows that her inclinations don't lie that way. Instead, it was all quite subtly sophisticated, with silvers and deep maroons flowing on to a pretty selection of pinks, powder-blue and gorgeous combinations of black and gold.
I feel, though, that the colors and silhouettes merely served as a canvas to the hero in the collection: the craftsmanship. Shehla has always had a penchant for hand embroideries and they were what one yearned to examine up-close. The mirrors were intricately meshed with Swarovski crystals, gota, marori and chata-patti. They wove florals and scallops, with silken Kanjivaram added in in some outfits. Painstakingly detailed!
Here's what we didn't like
Nevertheless, perhaps the embellishments could have been more appreciable had Shehla toned down on the layering in some of the outfits. The layers of organza and tulle were probably there to add drama – as was model Fouzia Aman, showstopping while lit up with fairy lights – but they made the embroideries more difficult to see. Lesser layers and those mirrors would have really twinkled under the spotlight!
But this is a minor crib. A major crib would have to be the pace of the show. One after the other, the models walked extremely slowly and a show that would have made such impact had it lasted for half an hour or so, ended up dragging to an hour. It is understandable that bridal design is detailed but regardless of how beautiful the clothes are, even an enthusiastic audience gets weary when models literally trudge down the catwalk, especially in the Karachi heat!
Full marks for menswear!
Coming back to the collection's strong points, 'Aks' also featured a smattering of well-conceived, balanced menswear. The men's clothing was very well-cut, lightly embroidered, quilted and moving from whites and blacks to tea-pink and mint green for the wedding-bound dandies. Even the men's shoes went with the clothes, a realm that is so often ignored by designers. It all added up to give the show a very polished look.
There's more: It was so good to see Karachi's design community seated in the front row, giving their support – Maheen Khan, Deepak Perwani, Aamna Aqeel, Umar Sayeed, Zaheer Abbas, Adnan Pardesy, Sherezad Rahimtoola and Kiran Aman.
Moreover, I haven't seen quite as many celebrities in ages at a fashion week. It is testament to Shehla's clout that they all came to her solo outing: Ayesha Omer, Hareem Farooq, Ali Rehman Khan, Asim Raza, Nausheen Shah, Adnan Siddiqui, Sarwat Gilani and Fahad Mirza! From the red carpet to the catwalk, it was honestly a night when the cellphone camera simply went on clicking!
Then again, this is the beauty of a solo show. It indicates a designer's clout in terms of fashion as well as in the ability to draw crowds. On the flipside, it puts a designer's work solely out in the open. A good collection can get applauded but mediocrity runs the risk of getting dissected to the tee. At a group fashion week, it may simply get a few admonishing comments but in a solo show, every flaw can get critiqued extensively.
But this is apparently a risk that Shehla is willing to take, for the second year in a row. And 'Aks' did justice to her hard work, to the glamorous venue, the décor, the starry attendees; glittering quite as much as they did.