Hum Showcase Day 1 proved Zaheer Abbas is the king of couture
The best collections at a fashion week are the innovative ones. There are pretty lineups and wearable ones but then there are those that recklessly push the fashion envelope, shrugging off commercial concerns, diving into a new blend of colour, craft or technique.
Hum Showcase, now in its third year, enjoys these dips and dives. The event's greatest strength lies in its carefully curated lineup which frequently delivers upon heady whiffs of innovative fashion. As at all other events featuring the work of multiple designers, the runway does occasionally veer into commercial design but it also features bona fide couture, which is so rare to find in these days of fast fashion.
One day before Hum Showcase began, designer Zaheer Abbas pointed out to me: 'There is a difference between catalogue and collection'. He was evidently pointing out brands' tendencies to put forth wearable catalogs on the catwalk rather than innovative, out-of-the-box design that could then be translated to retail. I do feel that high-street brands can be allowed to be a tad 'cataloguey' in their approach as long as they don't get downright generic. Their identity, after all, is wearable fashion and most high-street fashion shows – some of the best of them – stay true to wearability while pushing the fashion bar ever so slightly.
Zaheer's words do ring true, though, when it comes to couture houses that fall victim to commercialism. The creativity simply fades away and one may ask, where's the craft? The new techniques? The new trends? What's the point of a couture show if all it's going to do is churn out cookie-cutter clothes that have been seen a zillion times before?
Of course, Zaheer Abbas' show, kicking off this year's Hum Showcase featured a collection and not a catalog. And what an absolutely fabulous collection it was…
Zaheer Abbas
The opening show was easily the best show of the day. Zaheer Abbas' 'Conceptuelle' was a symphony in cotton, falling in impeccably crafted layers, worked with intricate details that you immediately wanted to examine up-close.
There wasn't an ounce of embroidery but fastidiously crafted pleats, cuts that fell into place perfectly and a play of multiple hues. The huge sombreros worn by some of the models added flavor – you could almost see those layered skirts twirling on a hot night under the Spanish moon!
Extremely artisanal, the lineup was testimony to Zaheer's finesse and eye for fashion. What a collection, Zaheer. Now, tweak it here and there and create a catalog out of it so that people can get buying!
Nine Lines
What fun! Nine Lines' 'Pop Kitschry' throbbed to a youthful, upbeat tune, effervescent with colour and print. This was the brand's runway debut but nevertheless, Nine Lines has been visible for quite some time and it stayed true to its signature. The prints dominated the collection and I craned my neck to see the slogans on some of the clothes.
One declared 'Blogger hoon', with a matching bag – I have a feeling that I might see it on the red carpet soon, worn by a blogger! A hot pink sleeveless short, paired with matching layered ruffled pants, said 'Sweet and Saucy'. Another told you, 'Fittay munh'! Showstopper Nausheen Shah walked out in a dress with a long trail, printed with images of pop icons.
Very cool, very young. A special shout-out to the accessories: quirky bags and a giddy array of neon shoes!
Emraan Rajput
Emraan Rajput's 'Marquis', marched out in an all white parade. The jackets caught the eye in this collection: worked with textures, pleats and metal accessories and ranging from fitted numbers to baggier versions as well as trench-coats knotted at the waist.
I particularly liked a single-tone layered look: a white jacket, paired with a pointy hem and a voluminous shalwar. Quite a twist to the usual kurta-shalwar. Having said this, sharper tailoring – the veritable litmus test for great menswear – could have helped the collection along.
Also spotted on the runway, some very cool sneakers paired with some of the clothes and scarves by the House of Zaps adding in a dash of colour.
Zonia Anwaar
Zonia Anwaar's 'Reverdie' came bathed in soft spring colours, etched on to print like a watercolor painting. It was very pretty, with airy, easy breezy silhouettes making you want to bask in the sunshine, sipping a cool glass of lemonade. There were wispy blouses, dresses and capes and then, an oddball red suit standing alone amidst the medley of pastels. Why did it Zonia add it in, I wonder?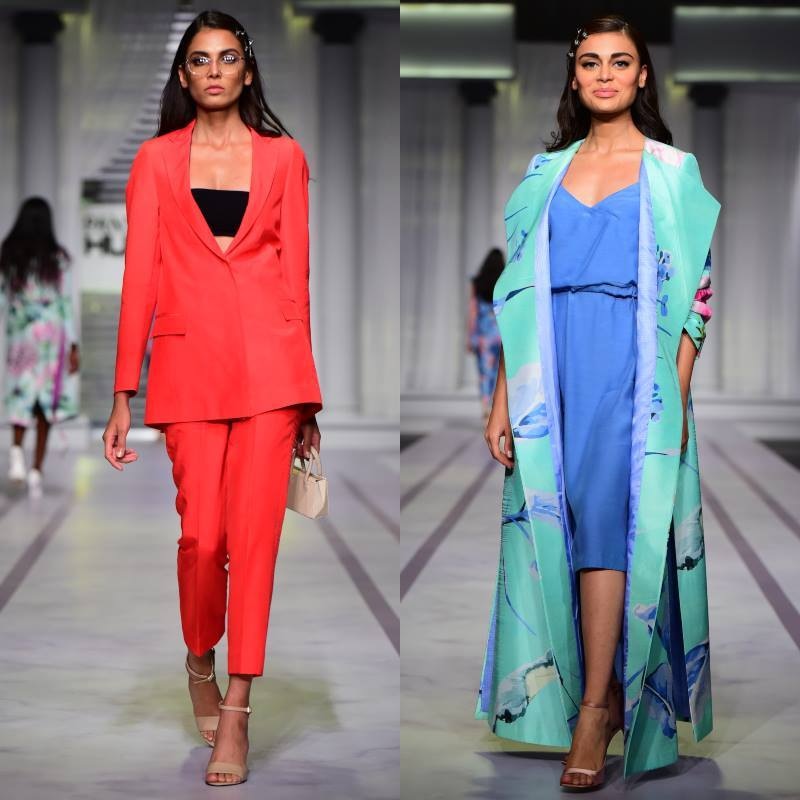 As is always the case with Zonia Anwaar, it was a well-conceived collection. As is always the case with Zonia, I will say that this showcase will only make sense if it trickles down to retail. The capes, such a favourite in the desi market, could sell out easily. The more Western silhouettes would have to be tweaked for retail racks.
But will Zonia manage to do so? Let's see.
Image Fabrics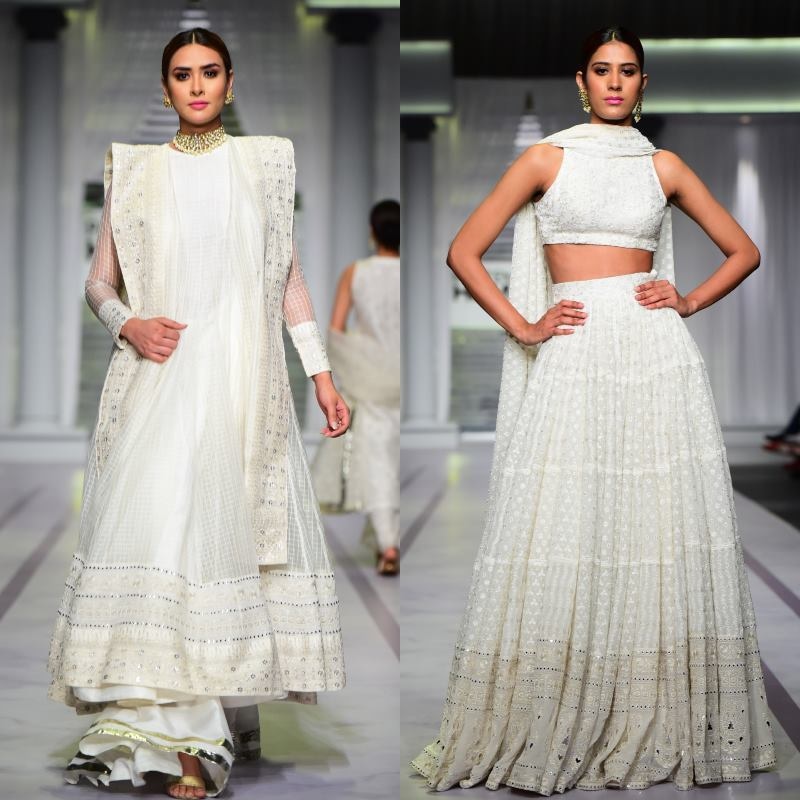 Chikankari has always been high-street brand Image Fabrics' leitmotif and they continued to dabble with it at Hum Showcase, amalgamating it with gota. The all-white lineup blended quite well – chevron dupattas, nets, layered pants, fitted tunics and long embroidered shirts paired with crinkled gharara pants.
It wasn't avant-garde and I don't think that the brand wanted to be. Instead, they opted for traditionally beautiful clothes that had you immediately thinking 'Eid'! You can never go wrong with classic white. And perhaps, in their next showcase, Image Fabrics could steer their chikankari into more cutting edge directions? Some hybrids of traditional silhouettes would be fun!
Deepak & Fahad
Deepak & Fahad advocated the saving of endangered species – and went far too literal with the effort. There was plenty that worked in their 'Markhor', like the prints with tiny red Markhors on them. It was quite a trip down the jungle, teeming with giraffes, pandas, elephants and tall pine trees.
I wish, though, that Deepak & Fahad had been a bit more experimental. Their quest to make the world a better place was simply put out there but they could have amped it up with better detailing and finer tailoring.
Sublime by Sara Shahid
Sara Shahid has always loved colour and the 'Sunset' line was her love affair with a mélange of yellows and burnished oranges, tie-and—dyed with whites, floating in clouds of crinkled fabric and layers, twirling magnificently at the head-ramp where the models paused to get photographed.
You could wear that long yellow off-shoulder or that orange halter dress down at the French Riviera. With summer right around the corner, it was the sort of collection that made you dream of flying off on vacation to some far flung isle where the sun sets in vivid colour.
A bit more colour – there are so many hues to a sunset – could have really worked in this line. Also, at the risk of sounding repetitive, will Sara be bringing this line to retail?
Retail, though, has never been the raison d'etre defining Showcase. I know for a fact that designers are not charged hefty participation fees to be part of the lineup. It is, instead, a curated offering created under Rizwan Beyg's experienced, discerning eye. Prospective participants are put through a selection process and once selected, an effort it made to edit their collections for the catwalk.
Having gone through this process, it makes sense for brands to take their lineups beyond the runway, onwards to retail. Rave reviews at a fashion show are great but truly intelligent brands know that it is imperative to cash in on the hype with some sales.
The first day of Showcase featured so many collections that could be 'resort wear', that expertly played with Western silhouettes and raised the bar with their cunning tailoring. Will designers be making the clothes available to the niche market that indulges in resort wardrobes? Will they be translating them to Eastern silhouettes?